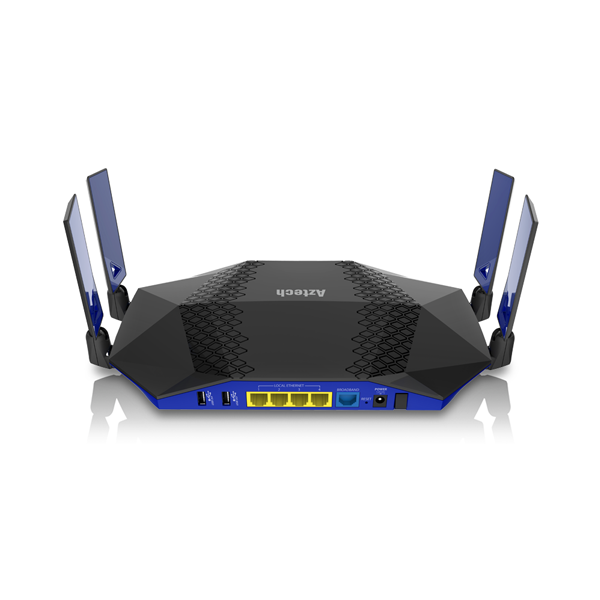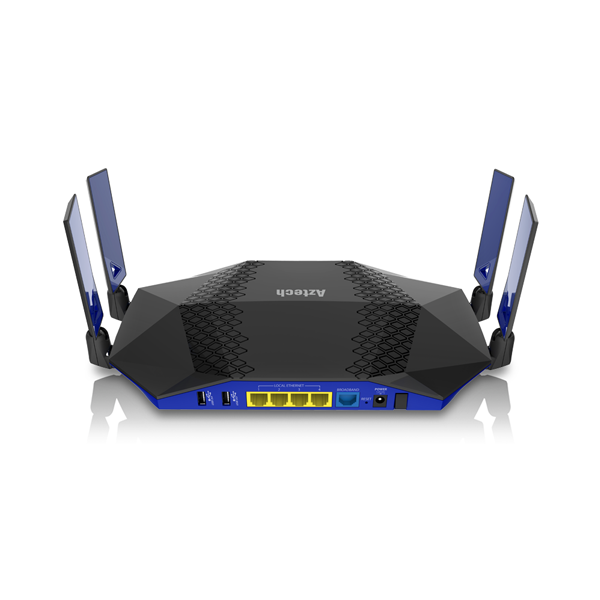 Wireless Router & Modem
AIR706P
AC1900 Dual Band Gigabit Router
Another reliable internet partner for homes, Aztech AIR-706P integrates various 802.11ac standard technologies and various wireless features to provide the fast and perfectly impressive wireless speeds you have always wanted for the wireless devices that you have at home.

Key Features:
AON Mesh Ready
Wi-Fi Radar
Wi-Fi Connect
Easy Device Setup and Installation
Ultra-Fast Wireless Performance
(4) Gigabit Ethernet Ports for Wired Connection
Supports IEEE 802.11a/b/g/n/ac Wireless Standard (Up to 1900Mbps)
Designed for Fibre-to-the-Home (FTTH) via ONT
Blazing Concurrent Dual Band Speed
- 2.4GHz Band: Up to 600Mbps
- 5.0GHz Band: Up to 1300Mbps
Band Steering for 5.0GHz Band Optimization
USB 3.0 Ports for Faster File Storage Sharing
Wi-Fi Protected Setup (WPS)
Guest SSID Support
Wireless Insight for Wi-Fi Issue Diagnostics
Enquiry
Keep every corner of your house covered with HIGH-SPEED WI-FI!




What is AON Mesh Ready?
AON stands for Auto Optimized Network, which refers to automatically roam from point-to-point in your house seamlessly to the best available network. You will thus get constant Wi-Fi signal without any disruptions.




Beamforming
Aztech AIR-706P built with Beamforming will direct the wireless signal towards the connected devices instead of broadcasting signal equally in all directions. Data transmission is concentrated on reaching the targeted devices, which results in better coverage and lesser interferences.




Band Steering for Dual Band Capable devices
Enjoy maximum Wi-Fi performance with a less congested network
AIR-706P steers to the 2.4GHz and 5.0GHz band depending on environment conditions (no. of interferences/ distance from router). Band Steering steers clients capable of 5.0GHz operation towards the frequency where applicable. Users will thus have better Wi-Fi surfing experience.